Desi's *NSYNC Page
---


This page is dedicated to my favorite group...*NSYNC!!! On this page you'll find pictures of all the members, bios, lyrics to their songs, and much much more. This page is just getting started, so please bare with me! I hope you enjoy your visit, and please come back soon. E-mail me with anything that you'd like for me to put on my page, okay?
Thanx. - Desi


---

The *NSYNC Story
Learn how *NSYNC got their start!

The Biographies
Get to know the guys of *NSYNC better!

*NSYNC Pictures
See pictures of these five fine guys!

Lyrics
Learn the words to their songs!

*NSYNC Tour Dates
Find out when *N Sync is coming to your town!

*N The News
Heard some news? Look for it or post it here! (Articles are now found here!)

*N Counters
Have you met *N Sync or been to a concert lately?
Share your experience with the world!

Chat Transcripts
Check out what your fave guy says!

Celebrity
*NSYNC's latest album!

Desi's Bio!
Come on...you know you wanna know about me...


---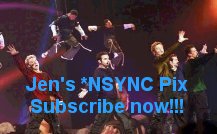 *~*~*~*~*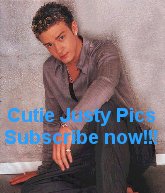 ---

Please e-mail me at nsync@nsync.freeservers.com
©2000-2001 Desi's *NSYNC Page